Cold Frame and TunnelProTM
Tunnels Greenhouses are three-season greenhouses that offer several economic advantages for producers. This range includes two models: "Cold Frame" and TunnelProTM.
Cold Frame
Producers often need additional crop space or a protected area outside the production greenhouse for their plants. The ground-to-ground 'cold frame' greenhouse is an economical and easy solution to add additional space.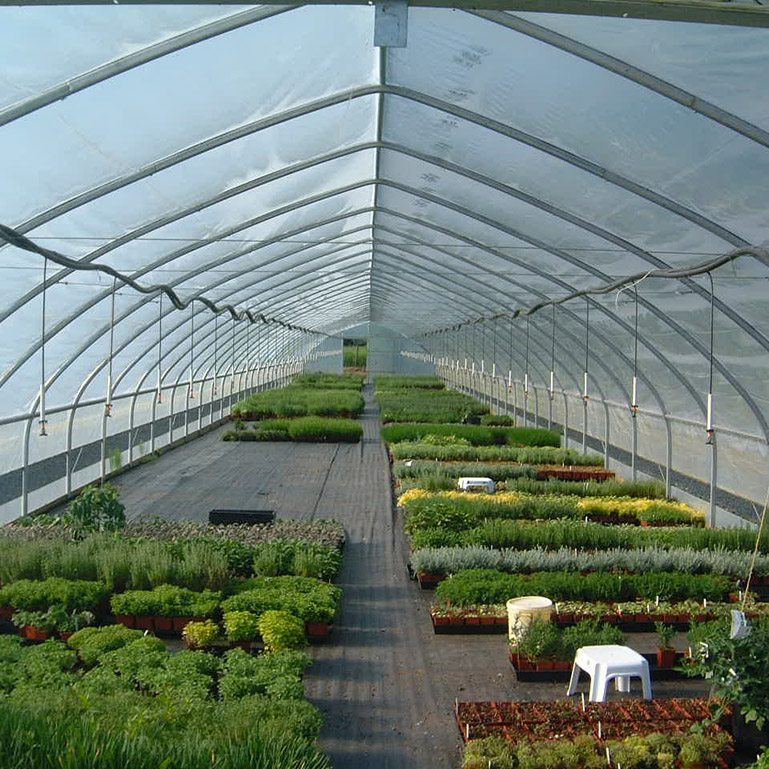 Offers an ideal environment for the hardening of perennials and shrubs;
De-clutter main production greenhouses, especially when plants are awaiting shipment;
Provide a protected area to allow the plants to reach the optimal size.
Seasonal production (perennials, annuals, nurseries)
Temporary retail space
Small-scale production of vegetables, fruits and herbs under organic or conventional control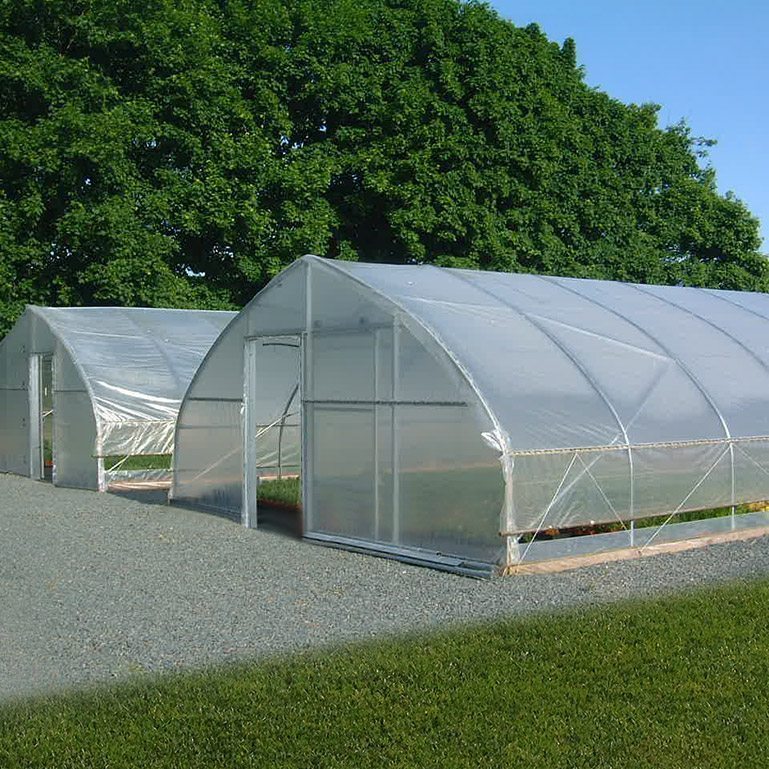 Available Widths : 20′

Foundation options :
– Tubes and anchor rods (concrete not required)
– Anchor plates for existing concrete foundation
– Anchoring tubes for new concrete foundation (columns or continuous foundation)
Covering : single layer of polyethylene film
Ventilation : Side ventilation with manual roll-up system
Door options :
– Single or double
– Sliding or hinged
The "Cold Frame" greenhouse is an economic model that provides a quick solution for producers looking for extra space. It can also easily be modified to become an individual OvaltechMC greenhouse and transformed to a 4 season greenhouse.
TunnelProTM
This model protects large crop areas from the elements. Offers improved productivity, better crop quality and more efficient climate management.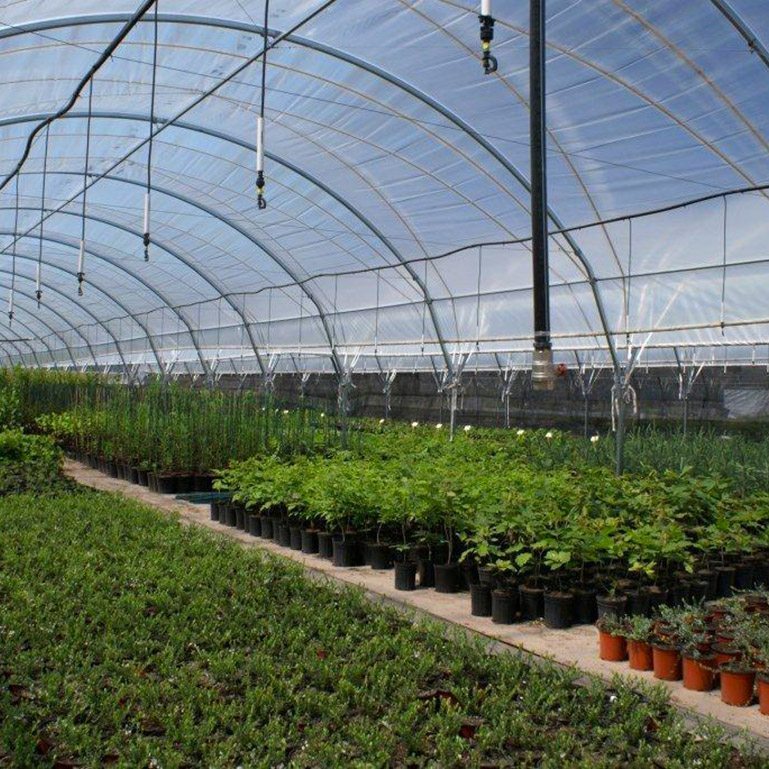 Allows producers to start crops earlier in the spring and stretch the growing season well into fall;
Provides proactive climate management with adequate ventilation and the protection of polyethylene film;
Protects crops in greenhouses, which improves yield and quality;
Full side roll-up ventilation operated by simple hand crank;
Wide UV-stabilized nylon straps keep the polyethylene film secured without damaging it.
Horticultural production in fields (small fruits, vegetables, cut flowers, nurseries, etc.)
Ideal for "Pick-Your-Own" operations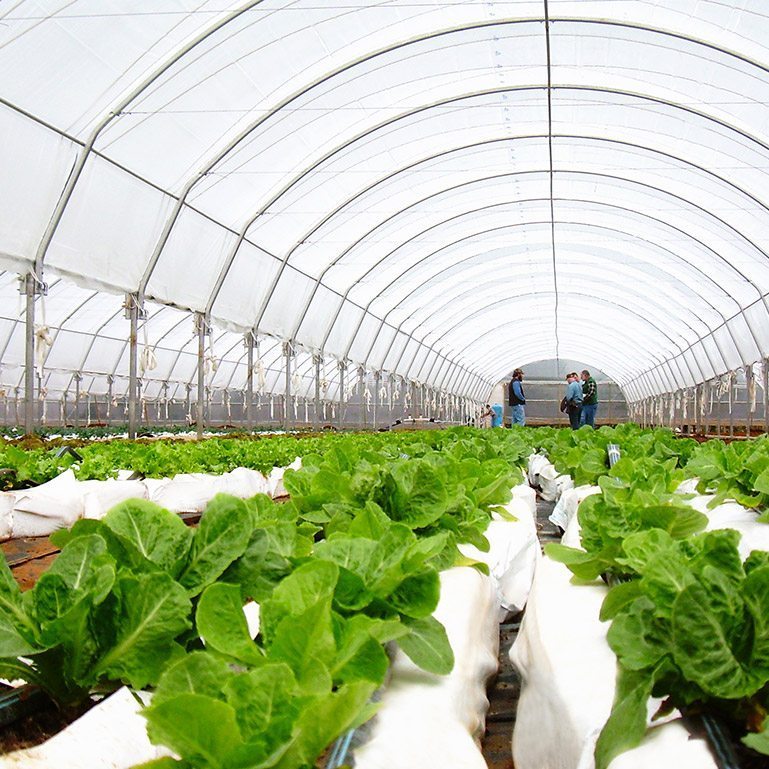 Available Widths : 28', 30' and 31'
A minimum of 3 28-foot bays is required (different configurations are possible depending on the available space)
Foundations: screw pile-type anchors installed under the frost line that provide superior stability and increased resistance to winds.
Covering: single layer of polyethylene film
Ventilation options :
– Side ventilation roll-up system
– Roof roll-up ventilation system (one or two sides)
– Mechanical ventilation (fan, extractor and air circulator)
Doors options :
– Roll-up
– Curtain door
Option :
– Winter storage kit, useful for protecting polyethylene film from the elements and UV rays
TunnelProTM greenhouses help protect crops and control productivity at an affordable price. Benefits include larger and more numerous fruits, flowers of plants, as well as more efficient crop rotation.
Our greenhouses meet the needs of these business sectors : vegetables, fruits and ornamental, along with institutional and commercial. Discover how they're used in your business sector.