Gutter connected greenhouses
The LuminosaTM can cover large areas and are ideally suited for medium to highly automated operations. This model can be used to group all greenhouse operations under one roof and to facilitate plant handling and phytosanitary management.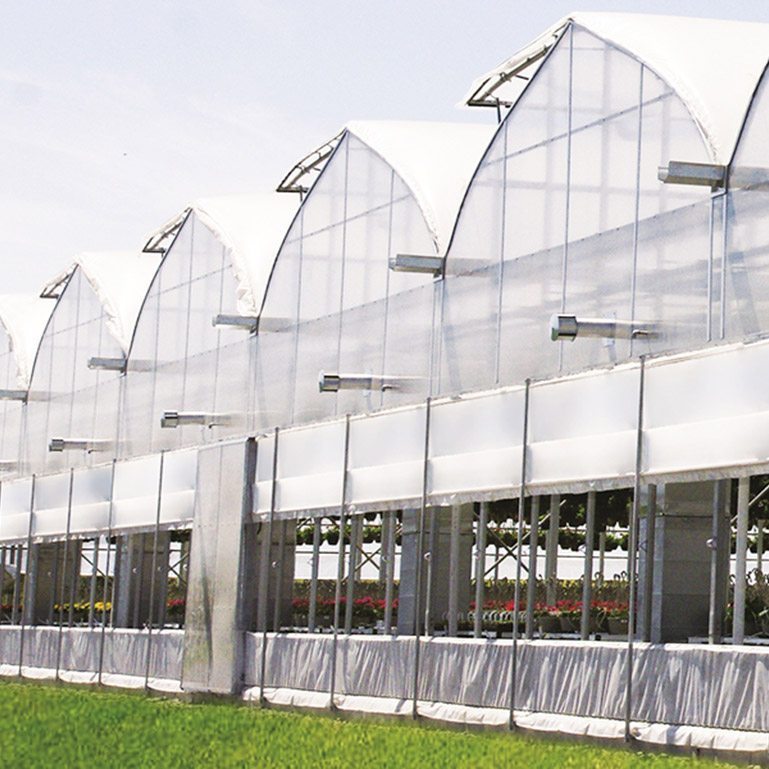 The Luminosa
TM
is designed to maximize usable cropping space. Several widths, up to 16.20 meters, are available, the widest available on the market! It offers several interesting features:
Specially designed to withstand wind and snow;
Improved condensation control;
Roof that facilitates the installation of polyfilms;
Columns designed in two parts to facilitate installation and to optimize structural strength;
A redesigned gutter for greater luminosity and energy efficiency;
Available tunnel to connect several individual greenhouses;
Can easily integrate service buildings such as mixing areas for fertilization, conditioning and packing areas, offices or employee rest areas;
Design adapted to the installation of a disinfection airlock to facilitate the phytosanitary management of crops;
Designed to maximize usable cultivation space.
Suitable for hydroponic or organic crops;

Suitable for above-ground crops;

Ideal for commercial production of vegetables, fine herbs, fruits and ornamental crops;

Improves containment and safety to prevent pests and insects that can harm crops, reducing the need for pesticides and fungicides.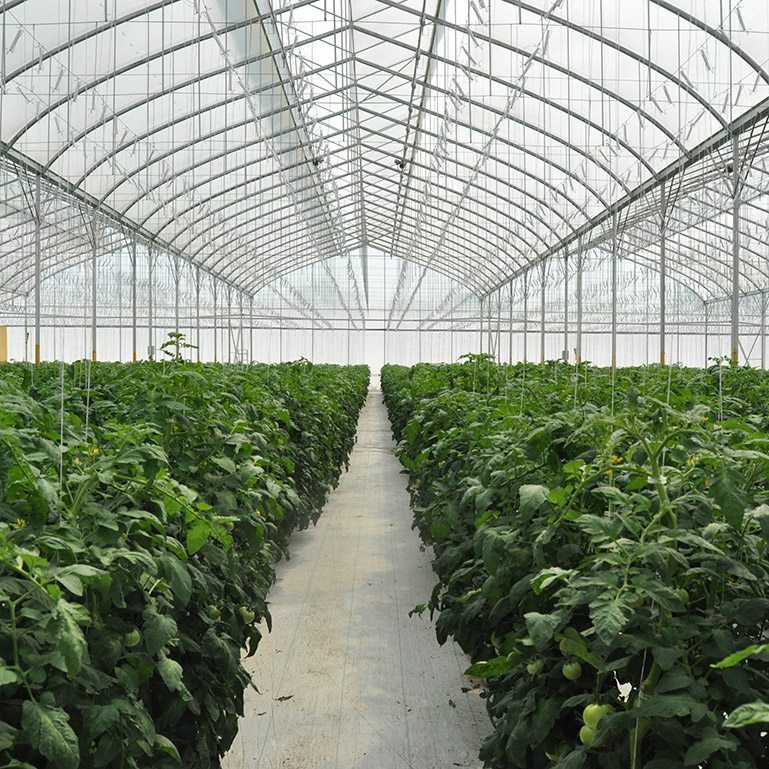 Available widths
from 21'4" (3.7m) to 53'2" (16.20m)
Foundation options 
Anchor plates for existing foundation
Anchorage tubes for new concrete foundation (columns or continuous foundation)
Covering options
Single or double polyethylene films
Single or twin wall polycarbonate sheets
Ventilation options
Single or double ridge vent panels
Mid-roof vent
Side roll-up vent (manual or automated)
Mechanical ventilation (fan, extractor and air circulator)
Door options
Single or double
Sliding or hinged
The LUMINOSATM greenhouse is available in various widths. The 21'4 ", 26'3 ", 30 ', 31'6' 'and 36' models are optimized for growing vegetables according to a European (metric) crop organization, with rows spaced 1.6 or 1.8 meters. Ideal for hanging crops such as tomatoes and cucumbers, these greenhouses optimize the growing space and maximize the profitability of the operation.
Our greenhouses meet the needs of these business sectors : vegetables, fruits and ornamental, along with institutional and commercial. Discover how they're used in your business sector.