Our buildings are made for intensive industrial usage.
Benefits for the industrial sector
The different series of MegaDome® structures meet the needs of the mining, oil and energy sectors. Our structures can be easily delivered and quickly installed, even in remote regions.
Our buildings can be insulated to ensure superior comfort in hot or cold climates, creating a safe and pleasant work environment for employees.
A fabric building adapted to your business sector
Our buildings can easily be delivered in remote regions;
Quick installation and a wide range of models adapted to all climates;
The EZ series models can be quickly moved to follow the progression of a project;
The dismantled structure can also be reassembled on a new construction or mining site for reuse;
The translucent PowerShield® membrane is designed to easily allow the penetration of natural light all day, an essential feature where energy is scarce.
Possible uses
Maintenance workshop
Storage of equipment, machinery and materials
Our buildings provide a fast and cost-effective solution for all your industrial storage needs. Our fabric buildings for bulk and machinery storage meet site specific building code requirements.
Equipment
La structure The MegaDome® structure protects your industrial equipment from the elements, extending the life of the machinery. The building also allows you to perform maintenance in a comfortable environment away from the elements. Our fabric buildings are spacious and designed to accommodate all types of industrial equipment including loaders, shovels, trailers and trucks.
Bulk storage

Our fabric buildings protect your bulk materials. They are stored in a dry environment and are accessible even in cold weather. In addition, the wall clearance provides maximum storage space.
Ideal for storage of bulk goods:
Minerals
Coal
Cereals
Wood
Sand
Gravel
Stone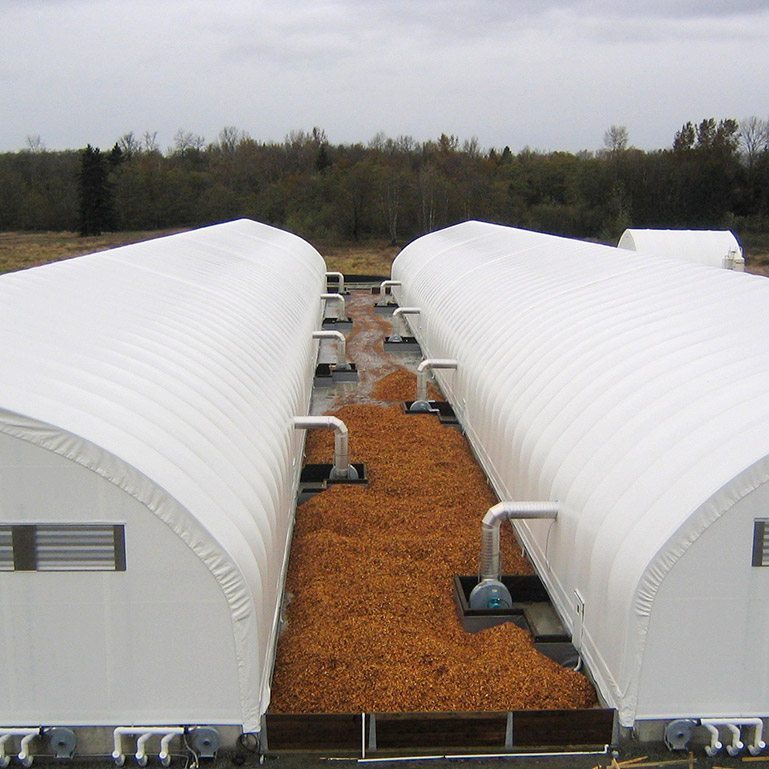 Les bâtiments MegaDome® buildings are the ideal solution for the environmental sector. They can be used for composting or recycling plants, sorting centres or waste management facilities.
A fabric building adapted to your business sector
Plenty of interior clearance to facilitate handling operations for sorting, composting or waste management, as well as the movement of heavy machinery.
Helps respect environmental standards for rainwater runoff and soil infiltration while protecting waste from the elements;
A highly cost-effective solution.
A fabric building is the ideal solution for the commercial sector. Flexible and cost-effective, it allows you to remain competitive. Our clients often use the buildings for storage, showrooms or warehouses.
A fabric building adapted to your business sector
Our clients typically pay less property taxes on their buildings;
The structure can be easily extended after installation should the need arise.