The characteristics of a MegaDome® flexible membrane building are similar to those of a conventional building. However, our buildings have added technical advantages when compared to conventional buildings and include high-quality, personalized service. Discover how a MegaDome® building can be a great alternative to any type of conventional building, and can be assembled at a fraction of the time and cost.
Flexible membrane buildings that comply with the building code
MegaDome® buildings comply with the building code requirements in your area (except for the EzKit™ model because of its size). This gives you the advantage of enjoying the same standards applied to conventional buildings at a lower cost.
The National Building Code requires plans to be approved by an engineer. MegaDome® engineers perform the calculations and meet the requirements for the following objectives:
Security (minimum strength of the structure depending on the seismic loads or on snow, wind and rain, depending where the building is constructed);

Health (installation of adequate ventilation);
Accessibility (access [doors and emergency exits] in accordance with the standard);
Protection of the building against fire and structural damage (compliance with existing fire protection standards).
In Canada, the National Building Code is developed by the Canadian Commission on Building and Fire Codes and published by the National Research Council of Canada. This code applies to the design and construction of new buildings as well as changes in the use of buildings.
In the United States, the International Building Code is developed by the International Code Council and is adopted in most states. It applies to the construction of new buildings, modifications or additions to existing buildings, and changes in the use of buildings.
A building that is cost-effective and faster to build
The cost per square foot of a MegaDome® building  is much lower than that of a conventional building. Our certified installation team is able to build 100 linear feet per week. It is subject to little or no property tax and can be provided at a lower cost to offer you significant savings.
As a guide, it takes one to three weeks to install an EZ series building, two to six weeks for the DB series (not including the 100 series) and 12 to 16 weeks for the AR series. These production times exclude project evaluation and delivery time*.
* Project production lead times depend on many factors such as the choice of series, the size, the different options, galvanization and the time of year.
MegaDome® buildings vs. conventional buildings 
Membrane
The PowerShield® membrane  lets daylight in all year round and eliminates the need for artificial lighting, which generates significant energy savings. The interior of a conventional building is dark and requires artificial lighting that can increase your electricity bill.
Foundations
MegaDome® buildings can be installed on several types of soil. It is even possible to build with no foundations in some cases (like the EzKit™). The foundation options available to you require little excavation. In the case of a conventional building, excavation and foundations are required, which increases the cost of construction.
Corrosion resistance
Galvanized structures are resistant to corrosion, while steel structures of conventional buildings are generally painted and can rust faster in the long term. Conventional buildings made of wood can also wear down over time.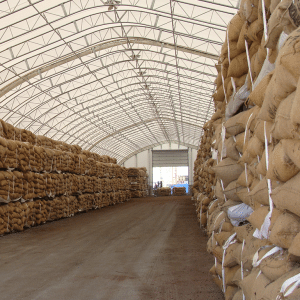 Surface
The absence of a central column and large interior wall clearance provide more storage space and facilitate the circulation of machinery and personnel. Some conventional buildings require a central support, which limits the workspace and storage area.
Expansion and mobility
After construction, you may find that your needs change and you require a larger space. Expanding a conventional building is usually expensive, complex and time consuming. Our buildings can be quickly and easily expanded after installation thanks to their modular design.
In some sectors, such as mining, a site may operate for a few years in one place and then be relocated. Our engineering department allows you to relocate your building easily. A conventional building cannot be moved, which limits its use.
Personalized service from start to finish
With our experts, you know you are always in good hands. Our specialists  accompany and support you at every step of your project. They are there to offer you advice while respecting your project timelines and ensuring the quality of the products and services provided to you.
The innovative design of a MegaDome® building gives you the advantage of a cost-effective installation. Choosing a fabric building saves you time and money, meeting and often exceeding your expectations when compared to a conventional building.