Municipalities generally need space to store road equipment, machinery and to host activities offered to citizens.  MegaDome™, a multifunctional building, has been specifically designed to cater all these needs.  As such, cities can reduce their operating costs and offer even more to their citizens.  Discover all the possible uses for such a building.
Complementary to the municipal garage
MegaDome™ complements very well a municipal garage.  The dome is accessible year-round which suits multiple purposes.  During winter, it could be used as a non-heated garage to protect machinery and snow removal material.  It is also often used to shelter tractors powered snow blowers and road signs.  In summer, it converts into an additional storage building for the equipment and machinery which is not used during warm season.  It serves to unclutter the main garage.
Protects road abrasives
Sand exposed to severe weather conditions fills up with water and freezes easily.  Salt is often added to prevent it from freezing, but this solution may become expensive.  The abrasive material protected by a MegaDome™ necessitate the addition of much less salt to the sand, thus achieving significant savings.   It also prevents runoff in the water and as a result complying with environmental standards.
Only one building for sports, activities and events
Our multifunctional buildings provide the opportunity of hosting various services and sport activities, protected from the elements.  Their large interior clearance is perfect to install small kiosks, show stages or even inflatable structures.  The citizens can enjoy the benefits of various activities offered by the municipalities, year round, regardless of the weather.
A safe and multifunctional building
The options offered ensures the safety of building users.  It is possible to add openings with center rollups with single or double layers of film to optimize crowd circulation as well as men doors to serve as emergency exits.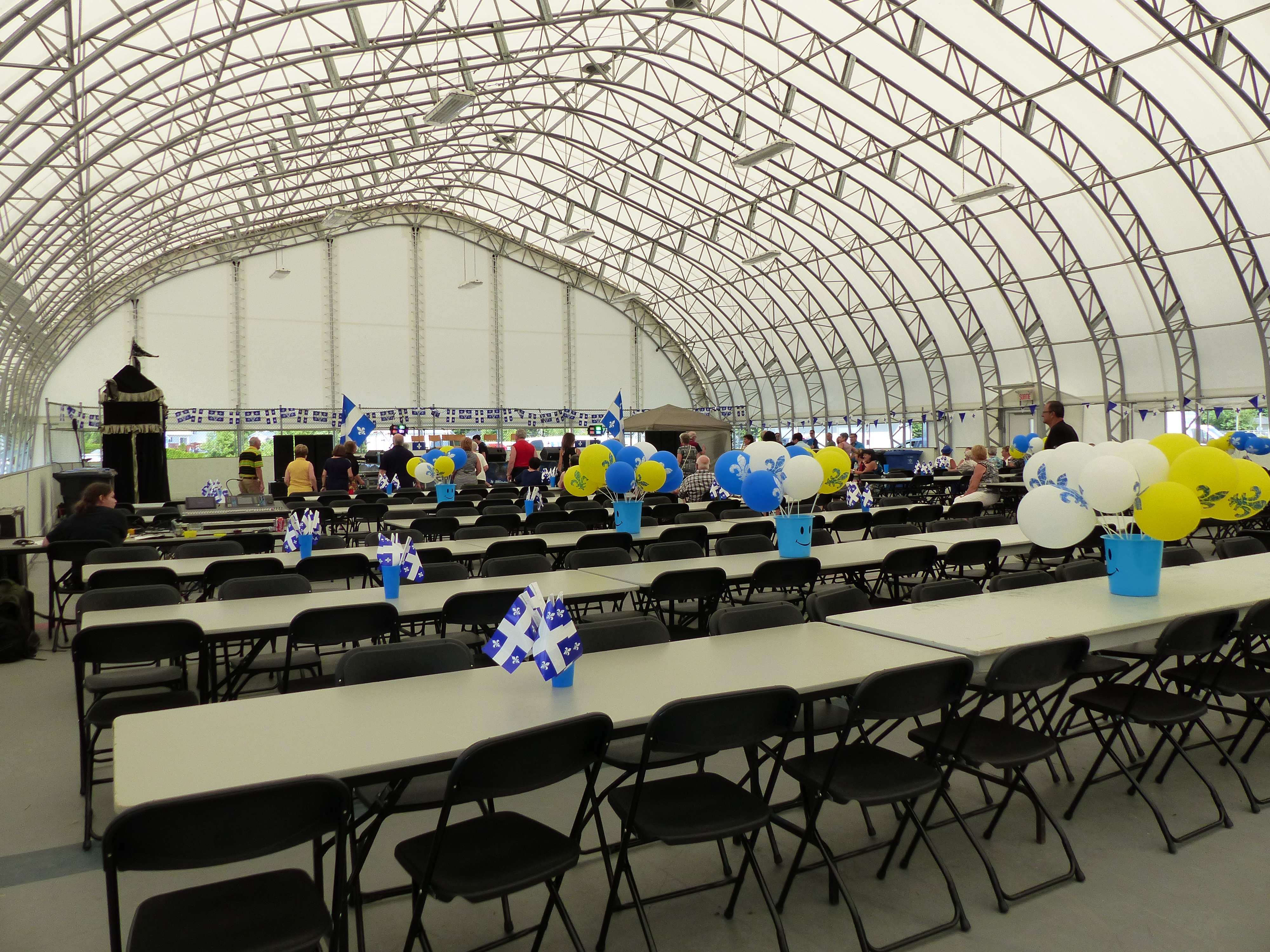 How the municipality of Saint-Thomas uses its building?
The municipality of Saint-Thomas offers various activities to its citizens under the MegaDome™.   It can be used year-round without even having to worry about the weather.  During summer, it becomes a play space for Day camps and converts in concert halls on National Day of Quebec.  The dome also hosts, among others, aerobic classes as well as social dancing.  During winter, it shelters the ice rink which is accessible for a longer period than an uncovered outdoor skating rink.  This protection greatly reduces the management and maintenance related costs. The building is also rented to citizens for private events.
Multifunctional buildings designed for municipalities
Multifunctional buildings known as MegaDome™ greatly befit the needs of the municipal sector.
Compliance with the building code
MegadDome™ engineers design building according to the building code.  They can validate the plans and make custom modifications to fit your needs.  This ensures the effectiveness of the project as well as a safe and sustainable structure.
Innovative design:  quick installation and multipurpose
Our buildings are designed for a quick installation and for their versatility.  The same building will serve several needs.
Complete documentation for an invitation to tender
When we have a request for tender, we appoint a MegaDome™ expert who will be responsible for your project.  He will provide you with detailed and personalized documentation, based on your specific requests.  Our proposal will respect your budget while covering your needs.
Our multifunctional building MegaDome™ proves to be a great long term investment.  Its strict design standards make it a sustainable, solid and safe building.  Contact one of our experts to discuss your needs and launch your project.