With the arrival of winter and the cold weather, you need to be well prepared. Using extra artificial lighting and heating, choosing the right crops, as well as cleaning and inspecting your greenhouse are important steps to consider.
Preparing your greenhouse for winter or for another crop
Cleaning your greenhouse
Remove seasonal plants, old crop substrates, hooks and ropes;
Sweep the floors and discard all containers that are broken;
Clean the floors with soap and water and rinse thoroughly;
Clean the roof cover with a mild detergent;
Wash the entire structure and all accessories in your greenhouse;
Take an inventory of your tools and reorganize them as needed.
Inspecting your greenhouse       
Make sure the roof cover is not cracked;
Examine the existing insulation;
Add additional insulation to the north facing wall;
Inspect the heating system;
Inspect the ventilation system.  

Choosing the right crops for winter production
You will need to choose the right crops for this production period. In winter, greenhouse vegetables need heat, which you will need to provide at the right time and throughout the day. The tools recommended for winter cultivation include single or double thermal screens, double polyethylene plastics and a plant heating system, as well as artificial lighting for extra heat. A high-tech greenhouse equipped with these tools will optimize your winter greenhouse production. 
Lighting your greenhouse in winter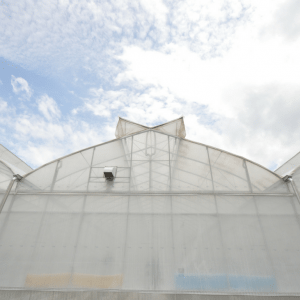 In Quebec, there isn't enough natural light for greenhouse production between November and February. The solution to compensate for this lack of natural light is to use extra artificial lighting.  The intensity and duration of this lighting depend on the type of crop and must be adjusted to the temperature as well as the CO2 enrichment. Using artificial lighting is the only way to produce in a greenhouse 12 months a year in Canada. You can expect your lighting costs to grow significantly during this period, so you will need to decide whether winter production will be profitable or whether it's best to halt production during this period.
Ventilating your greenhouse in winter
Ventilation is essential during the winter season. The vast difference between the temperature inside and outside makes managing moisture difficult and promotes the spread of diseases. Make sure you choose the right time to start ventilating your greenhouse to prevent the development of conditions that make the crops weak and susceptible to disease.
Properly preparing your greenhouse for winter is essential. Discover different types of equipment that will allow you to have a successful winter production. Contact us for more information.