Municipal skating rinks are exposed to harsh weather throughout the winter season. As a result, the surface of the ice can get damaged and requires frequent maintenance by municipal workers. Covering the rink with a flexible membrane building allows you to increase the length of time it can be used for at an extremely reasonable cost.
A skating rink in good condition all season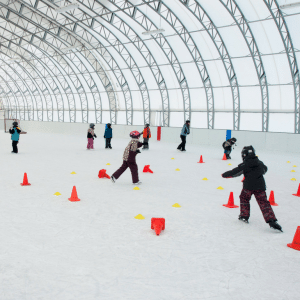 Abundant winter rain and mild spells are an inevitable reality for cities. That's why risk management has become more complex and expensive. A MegaDome®  building answers this challenge in several ways:
Benefits
It protects the surface and skaters from the weather;

It ensures prolonged use;

It requires less maintenance;

It offers considerable savings on maintenance costs;

It provides a bright environment for users.
Popular options for indoor skating rinks
The addition of options allows you to customize and adapt the dome to meet the municipality's needs:  
Roll-up side panels (perfect for festivals and events);

Garage doors (offering easy access for delivery trucks and surfacers);

Roof aerators (preventing moisture build-up when watering the ice).  
Extended use in the summer season
A MegaDome® building is used throughout the year. During the summer months, it can be used for day camps, holidays like the Quebec National Holiday or Canada Day, or to welcome guests for local events and activities, without municipal managers having to rent marquees every time. This type of building also ensures that events don't have to be cancelled in the case of rain or storms.
The size of the rink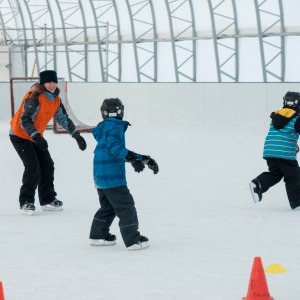 The size of the ice rink is an important factor that has a big impact on the budget when building the dome.
The DB series is ideal for covering a municipal ice rink, able to cover surfaces of any size. However, it is important to choose the size of the rink to be built based on the size of the dome in order to respect the allocated budget.
Before construction of the rink
You can reach out to us as soon as plans for the rink have been developed. We will guide and support you in building a domed rink that respects your budget. In the case of an existing ice rink, municipalities can place shorter rink strips on the surface to reduce the area that needs to be covered, thus respecting the budget.
The Saint-Thomas ice rink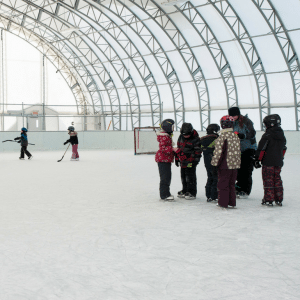 The municipality of Saint-Thomas in the Lanaudière region offers visitors a skating rink that is covered by a MegaDome®. Municipal managers wanted to make their outdoor rink accessible for as long as possible and organize events throughout the year. Implementing this project allowed them to reduce management and costs related to rink maintenance. In addition, the arena is now used for various events and can welcome young people for day camps come rain or shine.