Construction of a MegaDome® structure can begin once the preparation stage is complete. This checklist explains how a fabric building is constructed.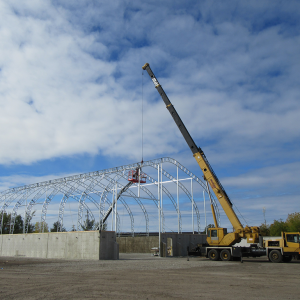 Construction: average production time from start to finish
Project production lead times depend on many factors such as the choice of series, the size, the different options, galvanization and the time of year. Consult our article on preparing for construction to make choices tailored to your needs.
We've put together a schedule to help you plan the construction of your building. It is based on the average production time of a MegaDome® building under ideal conditions.
EZ Series :
Evaluation of project : 1 to 2 weeks / Delivery : 3 to 5 weeks after ordering / Construction : 1 to 3 weeks
DB Series :
Evaluation of project : 1 to 2 weeks / Delivery : 4 to 6 weeks after ordering / Construction : 2 to 6 weeks
DB Series – 100 series profile
Evaluation of project : 1 to 2 weeks / Delivery : 8 to 12 weeks after ordering / Construction : 8 to 10 weeks
AR Series
Evaluation of project : 1 to 2 weeks / Delivery : 8 to 12 weeks after ordering / Construction : 12 to 16 weeks
Ideal construction period
Canada, nord and east United States  : From April to November
Construction between December and March is possible but requires more logistics, in addition to being more complex and expensive. The construction rate is generally 15 percent higher during this period.
South and west United States : All year round
The different steps of construction
Preparing the ground
The installation of your fabric building can start once the ground preparation work is complete.
We remain in constant communication with you during this period to ensure the work is progressing as it should be, and we can change the date of installation as needed.
Foundations
The MegaDome® team provides the technical documentation you need for the foundations. The foundations construction company will determine the best time to carry out the work. You can choose to work with the construction company of your choice or let our team take care of it.
Installation team
The accredited MegaDome® installation team or site supervisor (depending on your choice at the preparation stage) arrives at the site with all the necessary equipment.
Installation
The installation starts with the assembly of arches on the ground. The arches are erected. The braces are installed. The PowerShield® membrane is attached to the structure. The selected options are installed. Doors and garage doors are installed.
End of project
Once the project is complete, we continue to support you as needed with our after-sales service. Our team is committed to helping you solve all types of problems that may arise from the acquisition of your building. With MegaDome®, you can be sure you're getting a quality building that's right for you while enjoying personalized, ongoing service.
Warranty
Products designed by Harnois Industries Inc. are guaranteed against any manufacturing defects for the life span of the structure. This limited warranty applies to Harnois Industries Inc. buildings that are properly maintained and installed as required. Our team of technicians will come to the site if necessary to make any repairs and to follow up. Our broad spectrum of services includes equipment repair, membrane replacement and structural adjustments.
You can count on our team to accompany and support you throughout the construction of your building. Contact us today to get your project started.